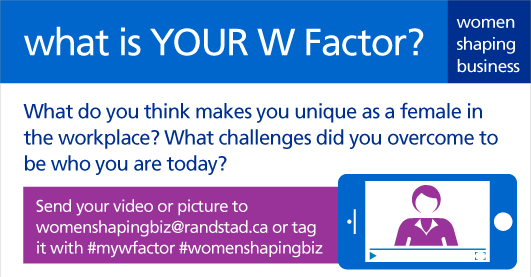 We want to know what is YOUR W Factor? What do you think makes you unique as a female leader? What challenges did you overcome to be who you are today?
Send us a blurb or short video of yourself (simply use your iphone) to womenshapingbiz@randstad.ca and we will share it on our social platforms. This is an opportunity for women from all walks of life to celebrate their uniqueness, share useful insights on their journey to become a successful leader, and inspire other aspiring female leaders.
Here are some examples from women at Randstad Canada:
"
My W Factor is my results-driven, self-motivated nature for exceeding expectations. I have always been competitive with myself, and I try to push beyond my comfort zone as often as I can. To become better, it is a daily reminder to push yourself past the limits you may have made for yourself. Continuous daily reminders and improvements are very important, not only for your professional development but your personal growth as well."
Melissa Kwong Hing, Account Manager, Randstad Staffing
"I grew up with all boys. If you can imagine, a lot of competition and feelings of seclusion, so it makes sense that I always tried to be "one of the boys." I never saw any activity, hobby, etc. being gender specific- I did it all. My knees were always scabbed from running around outside but I also loved my Barbies.
The whole notion of being "one of the boys" definitely helped me in the long run. Me trying to fit in as a kid combined with my competitive spirit has made me stand out while growing up. I have never necessarily looked at myself as a female leader but just a leader in general. I always surrounded myself with the top dogs with the goal of being the top dog, regardless of gender.
Also, my family always placed very high expectations of me but I would not have had it any other way. My brother once saw me going through the motions and said "don't be a waste of potential." For some reason, those six words have stuck with me for years now. I just demand a lot from myself, as everyone should. I know I can do it all so why shouldn't I? My W factor is wanting of being the best."
Veerprit Dhaliwal, Resource Manager, Randstad Technologies
"My W Factor is my passion and ambition. Currently, I am the youngest employee of Randstad Technologies and my intrinsic drive and passion for people is what has gotten me here. I fast tracked through my undergraduate degree while working full time before joining Randstad Technologies. I have placed almost an equal number of men and women in permanent roles within IT which is something that I'm incredibly proud of. I am fortunate that I am able to assist others who are talented in their field without gender being a barrier that prevents them from achieving their goals. Whether it is a $20K salary increase, a change in career path, or the first job in Canada, assisting other people in achieving their dreams is what drives my passion and ambition further."
Kathryn Torangeau, Resource Manager, Randstad Technologies
"As a woman in leadership I have had to face challenging markets, employee turnover and many uphill battles. My W Factor is that I grow by reaching out to other women in leadership in our business whether as mentors or mentees. By doing this we share knowledge, best practices, lessons and business leads. We have a collaborative approach to Shaping the World of Work and build on each other's experiences. Whether it's a quick brainstorming session or a planned mentoring call these calls foster an environment that is safe but beneficial. I also have increased my network and built great relationships with many women in leadership at Randstad nationwide. Everyday I learn something new and I would like to think that I also teach others by sharing my knowledge and expertise. I provide encouragement to the leaders I collaborate with and look to them for support and advice. I feel reaching out to others is the quickest way to build bridges to future success."
Amyna Mohamed, Branch Manager, Randstad Staffing
"My W factor is my ability to make connections and to leverage these connections even years after they are initially made. I once had a client refer to me as "brain candy" - an amazing resource of ideas and connections! Being able to make those connections and introductions for others is very rewarding. I now understand the huge power of my ability to connect individuals and business leaders; this ability to facilitate and orchestrate partnerships is my W factor.
In the beginning, during the LinkedIn infancy, we all connected with our colleagues, past and present; it then stretched to our business partners and clients. As my role as a Talent Management expert elevated and took on more senior responsibilities, it gave me access to executive levels within organizations; this network has now grown to the C-suite, and to a global audience. This has allowed me to make many impactful introductions for people and has allowed them to explore even greater career opportunities for themselves. It has also lead to valuable partnerships within their organizations, prompting new and innovative relationships beyond what they ever imagined possible. To this day I receive notes from colleagues or clients I had the good fortune to work with a couple of decades ago - it really is a small world!
My access to the business community and to a network I highly value and appreciate is my W factor. What business do you want to be connected to - I likely have an in!!"
Sandra Pickering, Vice-President, Business Development, Randstad Sourceright
What do you think makes you unique as a female leader? What challenges did you overcome to be who you are today?
Please note: By submitting your video, you give Randstad permission to publish your comments on the Randstad.ca website or other social media platforms, in print marketing materials, videos or other promotional materials. Your personal information will not be disclosed.