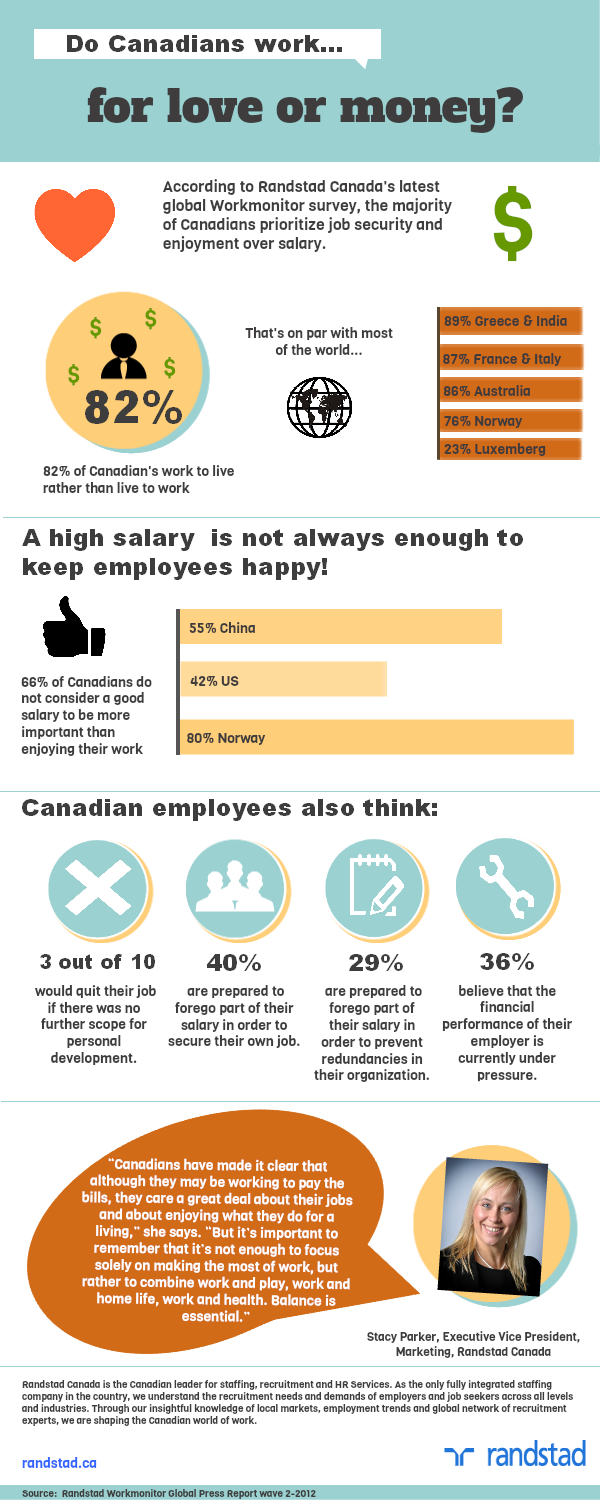 Are you working for love or money? Findings from Randstad's latest Global Workmonitor, surveying employees in 32 countries around the world, reveal that while most Canadians work to live, many are prepared to sacrifice money for job security and the ability to enjoy what they do for a living.
According to the survey, most Canadians (82%) work to live, rather than live to work, on par with the global average. The greatest exception worldwide is Luxembourg, where only 23% of respondents agree with this statement. As well, three out of ten Canadian employees also indicate they would quit their job if there was no further scope for personal development.
Survey findings also indicate that 66% of Canadians do not consider a good salary to be more important than enjoying their work. Globally, more than half of respondents (58%) also say they consider enjoyable work to be more important than a good salary, especially in Norway (80%). However, salary is a much stronger driver in Hong Kong, Malaysia and India, where only a third of respondents agree with this statement.
Stacy Parker, Executive Vice President of Marketing at Randstad Canada says, "Do I work for love or money? It's a question that many ask themselves at one point throughout their career: What's the trade-off between a satisfying job and a satisfying paycheck? Canada's workforce is motivated by a number of factors - for some people it is being able to earn a wage that keeps them going to work every day, while others take into consideration factors such as a good working environment, perks, flexible working hours, co-operative colleagues and job satisfaction."
"Undoubtedly a high salary results in a better standard of living, but considering that workers spend most of their hours at work, often this is not enough to keep them happy," says Parker.
Additionally, survey results indicate 40% of Canadian employees are prepared to forego part of their salary in order to secure their own job. Overall, 43% of global respondents agree, and the US ranks similarly at 44%.The most committed employees can be found in India, where 76% say they are willing to forego part of their salary if this would help save their jobs.
The extent to which employees are willing to compromise correlates with the financial performance of their employer. Overall, 42% of all respondents in the quarterly Randstad Workmonitor survey indicate the financial performance of their employer is under pressure. Countries above average include Hungary, Greece, Czech Republic and Spain (61-67%). Canada sits on the lower end of the spectrum, as only 36% of Canadian employees believe that the financial performance of their employer is currently under pressure.
According to Parker, "Canadians have made it clear that although they may be working to pay the bills, they care a great deal about their jobs and about enjoying what they do for a living," she says. "But it's important to remember that it's not enough to focus solely on making the most of work, but rather to combine work and play, work and home life, work and health. Balance is essential."
Click on the following link to view the For Love or Money Infographic.
For further information contact:
Dayana Fraser 416.962.9578 x2317
Marie-Noelle Morency 514.350.5309 x233