It's the wanderlust of a new generation. The results from a recent study conducted by ICMA International and sponsored by Randstad Canada, the country's leader for staffing, recruitment and HR Services, indicate that Canada's young workers want to work abroad and are in search of jobs that will offer them international career opportunities.
According to the data, when compared with older workers, 168 per cent more of younger Canadians (under the age of 39) who are searching for an employer, factor international/global career opportunities into their decision of whom they'd like to work for. Career progression opportunities (36%), training (18%) and a good work-life balance (12%) are also important criteria which young Canadians say attract them to an employer.
On the other side of the spectrum, Canada's older workforce (39 and above) say they are more concerned with quality of products/services (23%), competitive salary and benefits (16%), a pleasant work atmosphere (12%) and location convenience (9%), when choosing to work for a specific company.
Stacy Parker, Executive Vice President of Marketing for Randstad Canada says the results are fascinating. "Canadians were asked what they most want from an employer and their responses explain the basic truths about employee needs and desires," she says.

One of the clearest observations from their responses, says Parker, is that priorities change with age. "It's interesting to see how the age of a job seeker plays into the type of organization that they are attracted to. It is evident different generations value different things in the workplace," she says.
"As the Canadian worker ages, we see much more of a shift towards a more comfortable work experience, with aspects such as financial stability and corporate values increasing in importance for those over the age of 39," she says. "Older respondents with established careers are clearly being more selective in their choices, striking a balance in work and home life. Older Canadians prioritize companies that reflect the corporate values and offer the products and services that they respect and like," says Parker.
"Younger respondents, on the other hand, are mainly looking for global career opportunities that will allow them to gain international experience, career progression opportunities and solid training - all factors which will help improve their employment prospects and build their career during its formative years," explains Parker.
According to Parker, managers and organizations that prioritize what employees and prospective employees want, will surely outperform those that don't. "It is crucial for businesses to confront and resolve the causes of disengagement in the workforce, if they are to attract and retain top talent," she adds. "Tuning into the needs and wants of today's workforce, regardless of their generation, is a winning move for both employees and employers."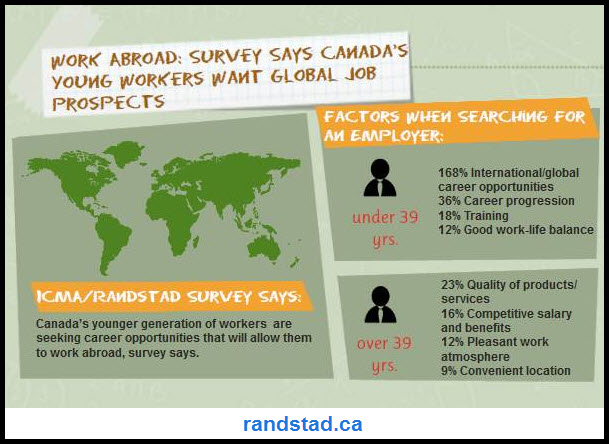 For further information contact:
Dayana Fraser 416.962.9578 x2317
Marie-Noelle Morency 514.350.5309 x233